Nerd Metal Shirt
Want one?
You can get this shirt at GetDigital. It's a collaboration with my good friend Bleeptrack, who designed the front side!
You can also get it as a hoodie and in a cut which emphasizes the waist.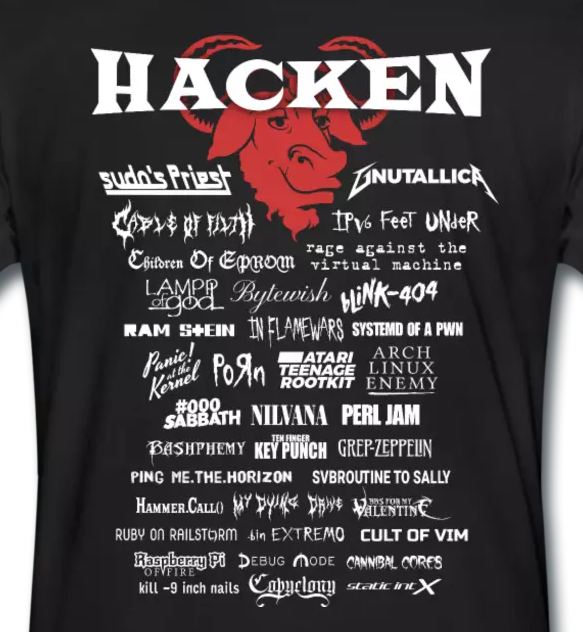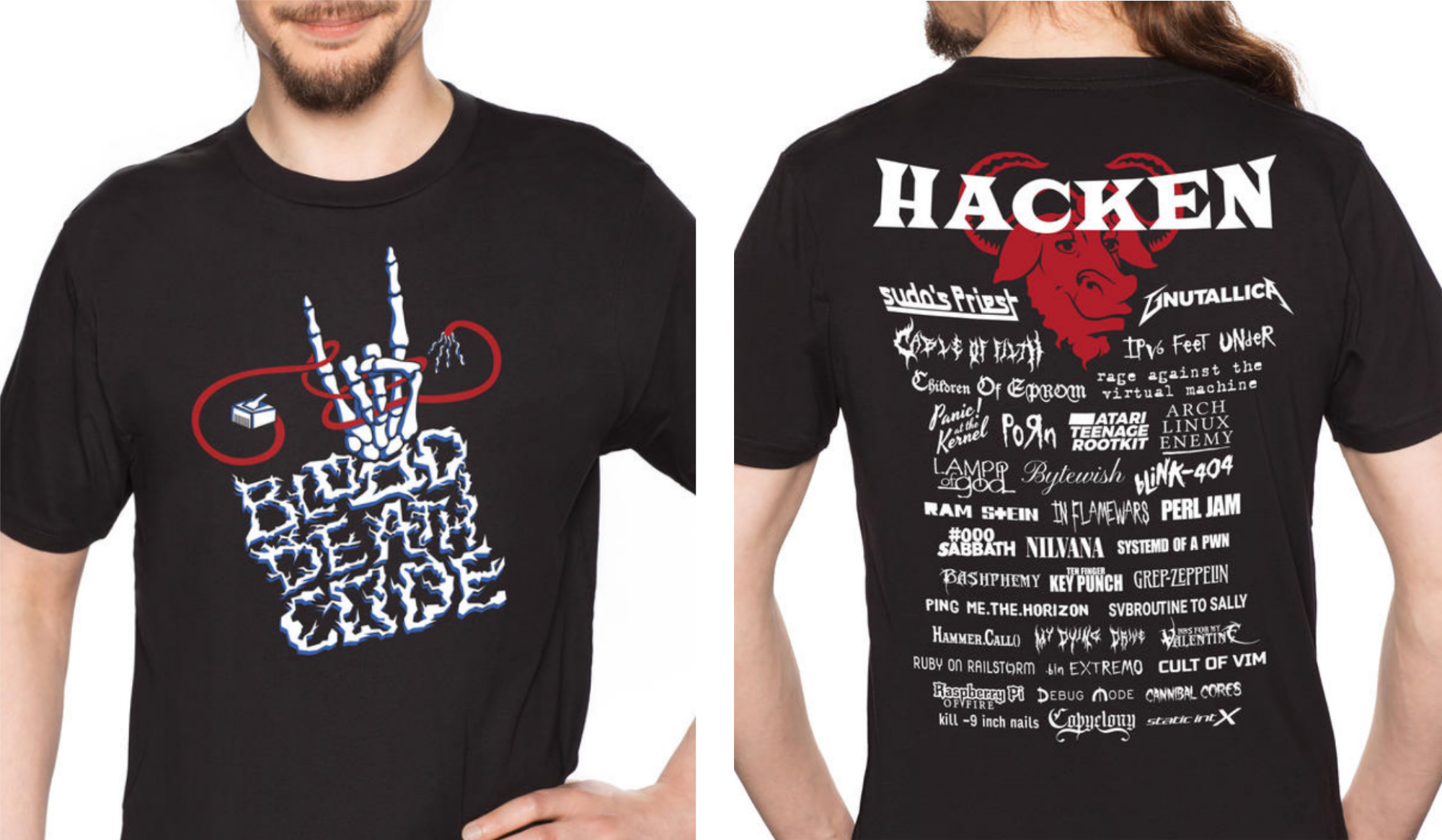 History
In September 2017, Bleeptrack and me had the idea for a festival shirt with nerdy band names on it. We brainstormed a bit, and asked around on Twitter for ideas:
Loading tweet...
Loading tweet...
When we got a lot of feedback, we wanted to set up a website where people could vote for their favorite band names, and could contribute new ones. We discovered the open source project All Our Ideas, which seemed perfect! We set up a poll, which received over 10000 votes and over 260 total ideas in a few days. Whew! The results were really helpful for us to select band names for the shirt, and to put them in a good order.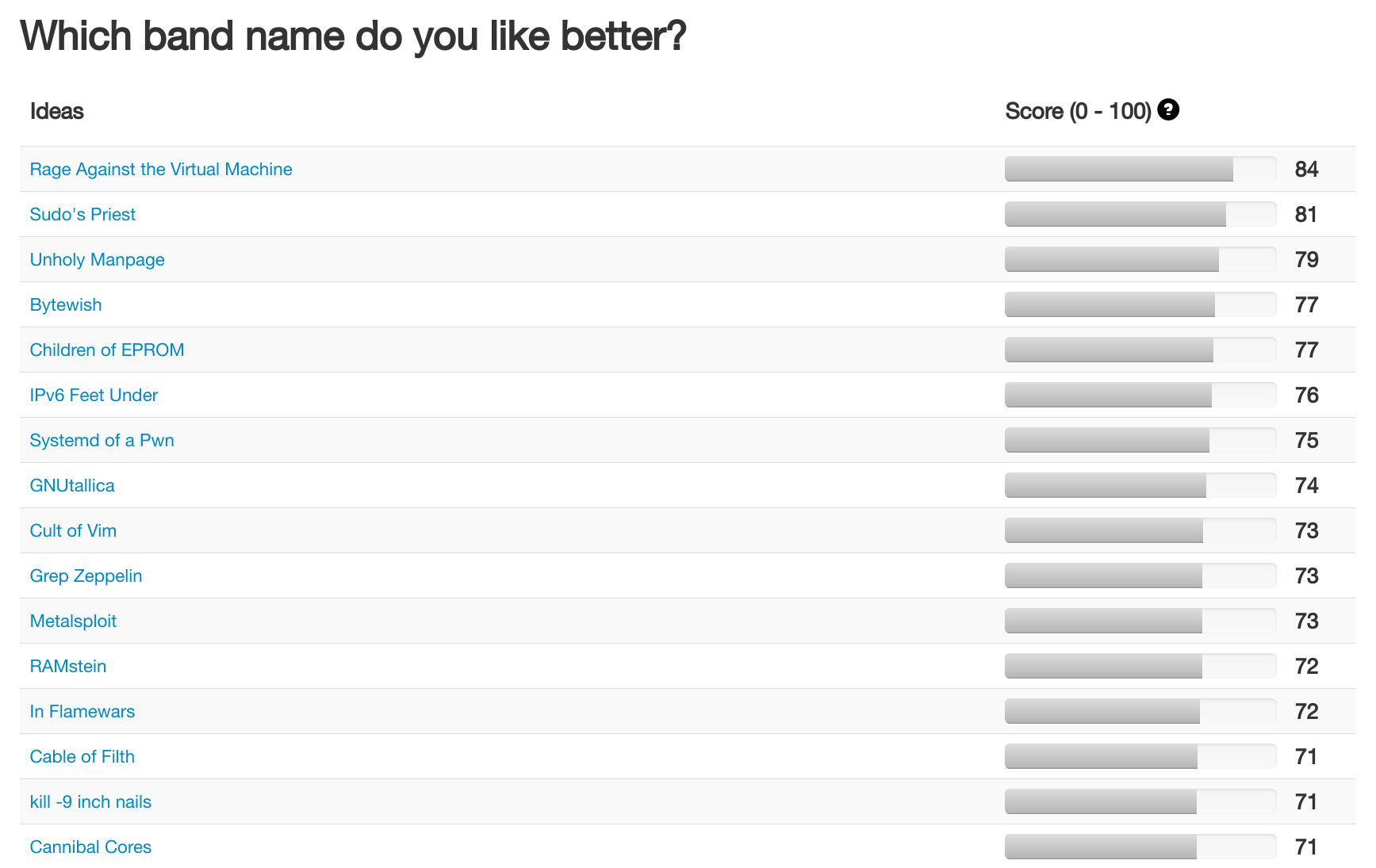 When designing the band logos, I made sure to only use fonts with free licenses. Bine drew a front side, and we iterated both sides a bit - thanks to our beta testers!
Initially, we wanted to set up our own on-demand printing shop at Spreadshirt, but we discovered that they would not allow parodies at all. So we contacted the nerdy online shop GetDigital, who were immediately enthusiastic about our idea. It took a while before the shirt actually went into print, though, because of internal personnel problems, Christmas time, and our complicated, big designs, which meant they had to look for a new contractor to do the actual printing.
But since June 2018, it is finally possible to buy the shirt! We can't wait to make more like this. Actually, Bleeptrack has created a ton of other awesome shirt designs, check them out!
---
Comments?
Send a tweet to @blinry or drop me a mail at mail@blinry.org. Also, you can support me on Patreon or subscribe to my newsletter !